From October 18th thru the 27th Venice will be the protagonist of high craftsmanship and slow fashion, an increasingly topical concept that enhances the idea of ​​products born from the skill and creativity of master craftsmen, designers and contemporary stylists: clothes and accessories made with care and extreme attention to quality which means durability and therefore eco-sustainability.
A very rich program, presented during the opening press conference held at our Tessitura on October 9th: fashion shows, cocktails, events, conferences and exhibitions open to all to let the public know the local realities of contemporary luxury.
Our Tessitura will be present at two events that we recommend.
– Thursday, October 25th: 'Make it right, make it different, make it last' conference
This is a day of meetings on the theme of "high craftsmanship and ethical fashion in Venice", organized by Venezia da Vivere and the Management Department of the Ca' Foscari University, which will be held at the Hotel Ca' Sagredo in Venice (Campo Santa Sofia 4198/99 – Ca' D'Oro).
Beginning at 10 AM, major players of the Venetian high-end crafts and international fashion and the local institutions will meet to discuss the relaunch of Venice. The aim is to define concrete projects to overcome the identity crisis of the city starting from the rich network of high local craftsmanship that has always embraced the concepts of quality, creativity and exclusivity in an ethical and green production that reflects the culture and traditions of the territory. An example is the restoration of the Gran Caffè Quadri in Piazza San Marco as a cultural operation where the Venetian craft production was the protagonist.
– Saturday October 27th: Open Atelier Instawalk
From 10:30 AM a walk to discover tailors, designers and craft shops. Our Tessitura will open the doors to those who want to visit the evocative environment where the handmade fabrics such as the fine soprarizzo velvet are produced, with our 18th century looms.
For more information on the Venice Fashion Week program: https://www.veneziadavivere.com/en/programma-di-venice-fashion-week-2018/
For a nice article of "Venezia da Vivere" on our Tessitura: https://www.veneziadavivere.com/en/tessitura-luigi-bevilacqua-venice/
Cover photo by Riccardo Rizzetto, @riccardorizz – Venezia da Vivere copyright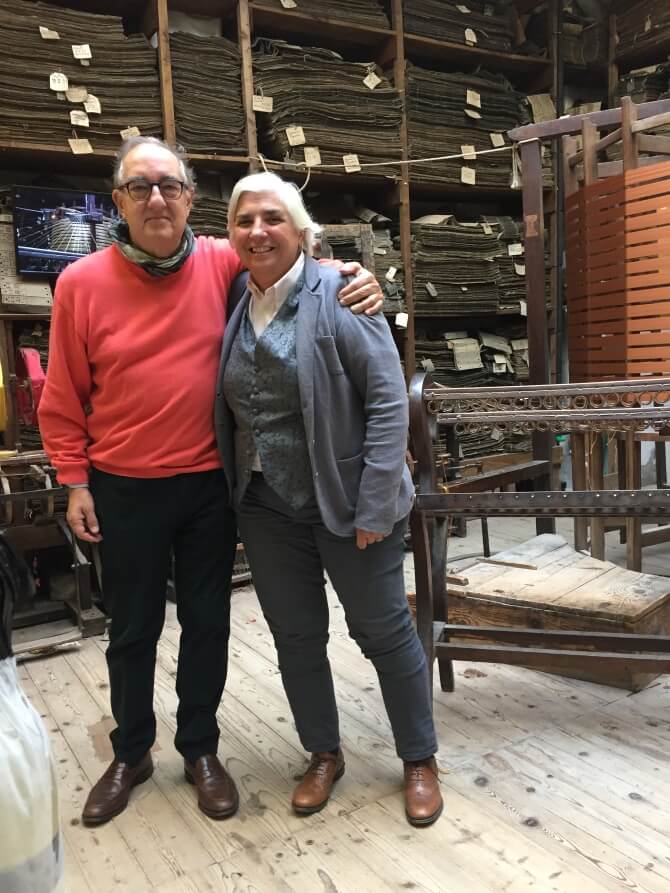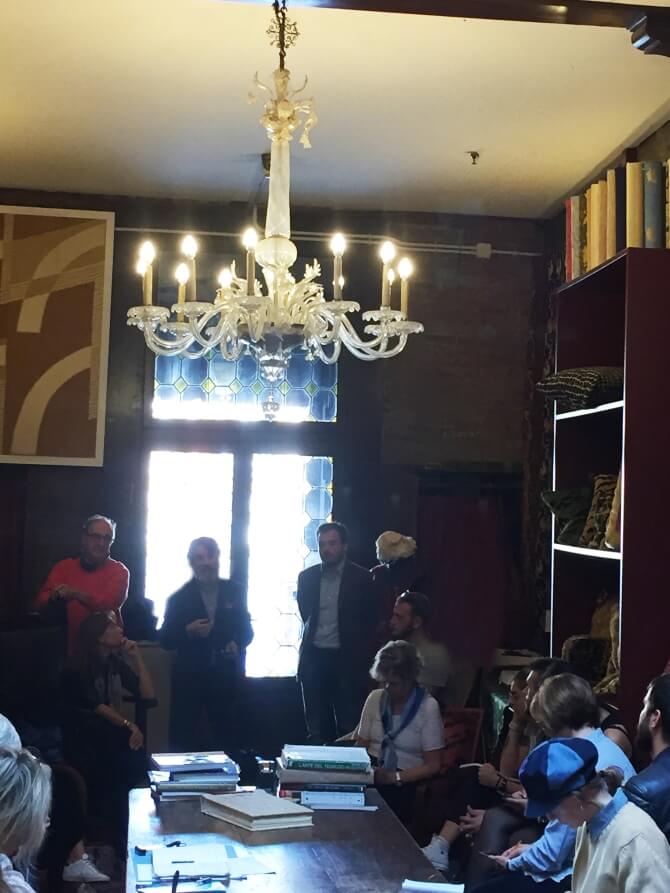 President Rodolfo Bevilacqua and City Councilor Paola Mar – Comune di Venezia
Opening Press Conference VFW 2018