A masterpiece of Byzantine art, the mosaic depicting Emperor Justinian I in the Basilica of San Vitale in Ravenna, inspired our Mosaico heddle velvet. Let's discover its characteristics and history.
The Pattern of Mosaico Velvet
Mosaico velvet is a heddle velvet whose refined design is inspired by ancient Roman mosaics of the late Imperial Age. The grid that characterizes it recalls the tesserae of a mosaic with a checkered background on which vine shoots intertwine with leaves, bunches of grapes, and tendrils creating medallions that enclose some figures. We can recognize a wolf, a bull, a goose, a dog, a leopard, a horse, a ram, a rabbit, and small birds perched on the branches. The only human figure is that of a gladiator, with a spear in his hand and in the act of whirling a long net. A motif that recalls a famous work of early Christian and Byzantine art: the mosaic of Justinian and his entourage in the church of San Vitale in Ravenna.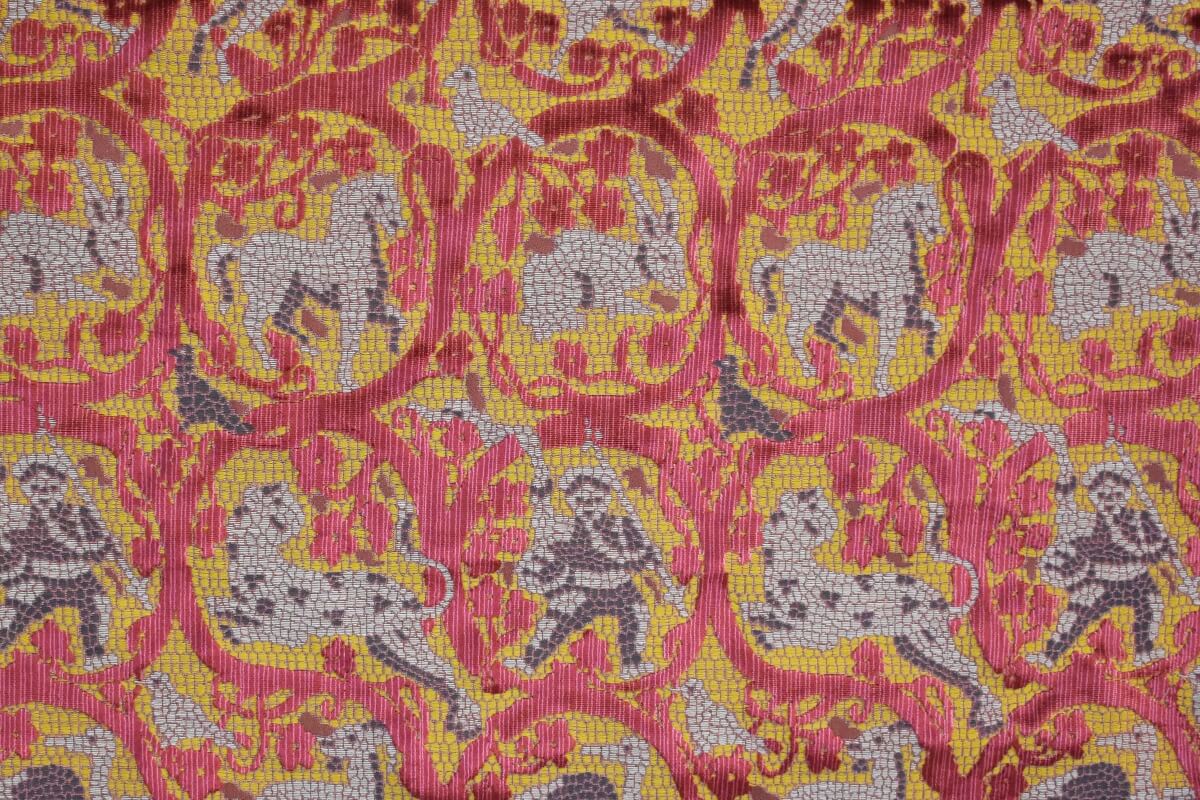 Mosaico Heddle Velvet – Multicolor Red
History and Interesting Facts About Mosaico Velvet
Ravenna was an important political and cultural center of ancient Italy, the first capital of the Western Roman Empire from 402 to 476 and later the seat of the protectorate of the Eastern Empire in Italy under Emperor Justinian I. During this period, there was a strong impetus for religious architecture and the figurative arts, of which the Basilica of San Vitale is a magnificent example. This was completed in 547, and inside we can admire the beautiful mosaics, masterpieces of Byzantine art. The most famous of these depicts Emperor Justinian with his court. It is his rich dress that captures our attention, particularly his golden tablion. It represented an extension of the cloak and had a specific social function: the preciousness of its embroidery and its jewels indicated the wealth and social rank of the person wearing it. And the refined embroidery of green parakeets, inscribed in a red circle on a gold background, was worthy of an emperor and a motif reminiscent of our Mosaico velvet.
Technical Specs and Available Colors
Mosaico Lancé heddle velvet is woven in silk with a smaller percentage of cotton and cupro and is made in Italy. A piece of fabric has a height of 130 cm and a ratio of 56 cm. It can be used for upholstery, furniture, and home accessories. The different color variations in which it is offered are listed below.
In the same fabric, in the red multicolor version, is also available the precious Mosaico Velvet Cushion, lined and trimmed with marabou fringe.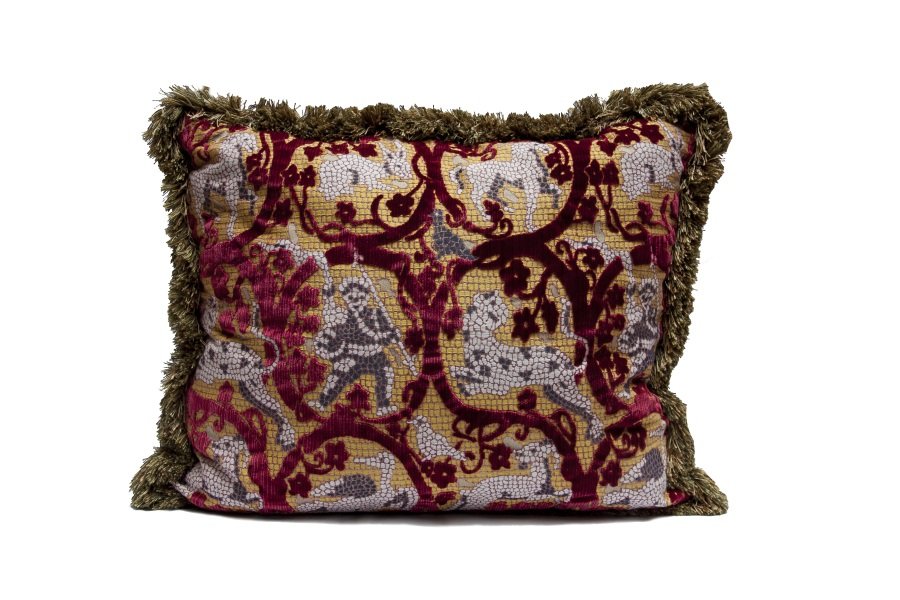 Mosaico Velvet on Social Networks
Visualizza questo post su Instagram