We would like to introduce you to the finest fabrics for furniture and clothing that our Tessitura has been producing since 1875. Some of them are still handmade on original 18th-century looms, combining the poetry, beauty and uniqueness of artisan production.
Velvet
Velvet is a fabric of ancient oriental origins, with a characteristic thick pile that gives it a unique softness and vibrant colors. Its particular processing allows for obtaining both a cut, smooth and very shiny pile and a curly one, made up of tiny loops. Venice, between the 15th and 17th centuries, was one of the main manufacturing centers for velvet, used for the residences and clothes of the most privileged social classes.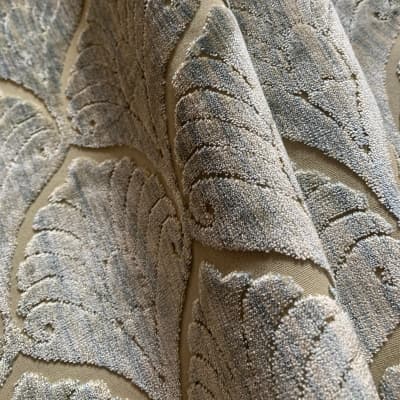 Handmade Velvet
It's the most valuable and exclusive among our fabrics, because of its beauty and its complex workmanship, which still today uses original 18th-century looms. This category includes soprarizzo or cesellato velvet, the rarest and most precious among handmade velvets because it's the result of an ancient art carried out by very few weaving mills in the world. The process to realize it is very slow and elaborate and allows for obtaining designs that combine curly velvet and cut velvet, on which the light is reflected in different ways, creating extraordinary effects of chiaroscuro and depth that give three-dimensionality to the design.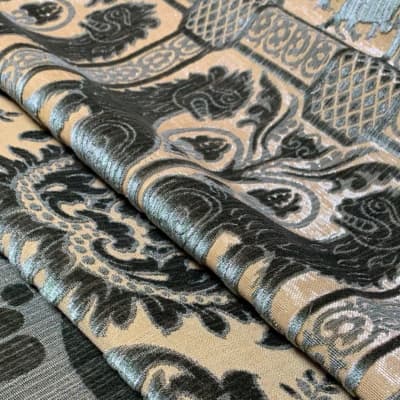 Animal velvet
These velvets are characterized by animalier patterns, an evergreen of the world of fashion and interior design because they can give style and personality to any room. Animal motifs, a symbol of power, honor and wealth, were known as Zoote in the past, and in the 18th century, they became trendy. In our velvets, they are reinterpreted with innovative colors too, for more contemporary versions.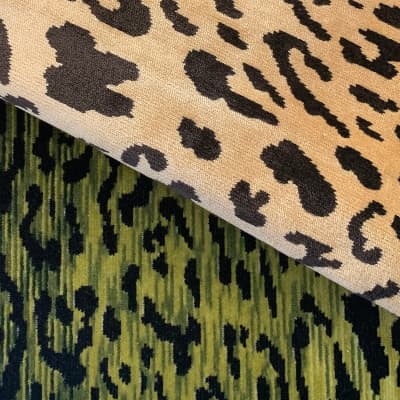 Multicolored velvet
This splendid velvet with polychrome designs of rare beauty and rich in details is the result of very complex workmanship. Shapes and colors are combined with great harmony and stand out on neutral toned backgrounds. The most famous are the "Jardinière" velvets, featuring elaborate floral motifs, which had their peak of popularity in the 17th century.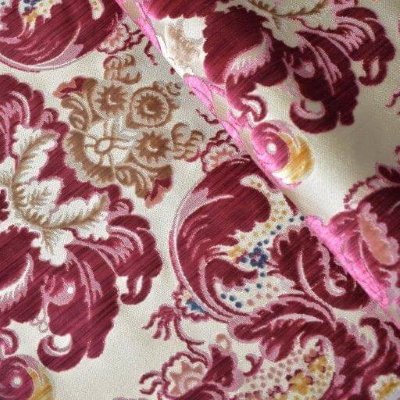 Heddle velvet
The name of this velvet comes from the processing that requires the use of special needles to produce the typical fur and allows for the creation of a wide range of decorative motifs with multiple colors.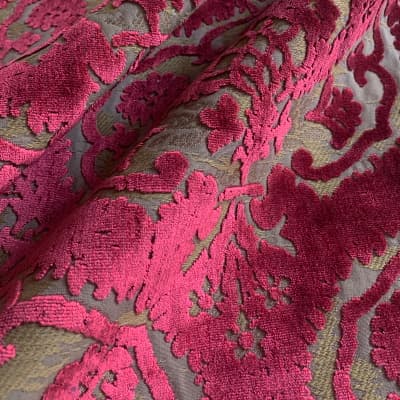 Damask
Damask is a gorgeous light, silky, soft fabric with an iridescent brightness. The designs are very rich in details and stand out shiny on the dull background, or vice versa, thanks to the different way light reflects on the yarn. Although they aren't reversible fabrics, their pattern is visible both on the front and the reverse side, but shiny and dull parts are opposite, just like in a photo's negative. Of Chinese origin, it had a significant development in the city of Damascus, from which it took its name, and was used mainly for the furnishings of noble palaces and sacred vestments, also enriched with gold and silver thread decorations.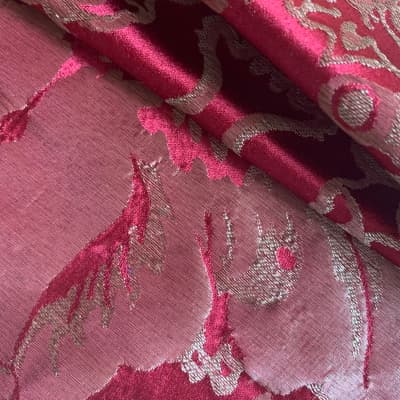 Lampas
Lampas is a precious fabric of ancient oriental origins. Its complex structure of warps and wefts makes it possible to create large designs with a three-dimensional effect that stand out clearly from the background. Often enriched with gold or silver threads, it spread during the Renaissance and throughout the Baroque period. In the second half of the 16th century it became the preferred fabric for clothing, but today it's mainly used in furnishing (upholstery, curtains, luxury wallpaper) and for liturgical vestments.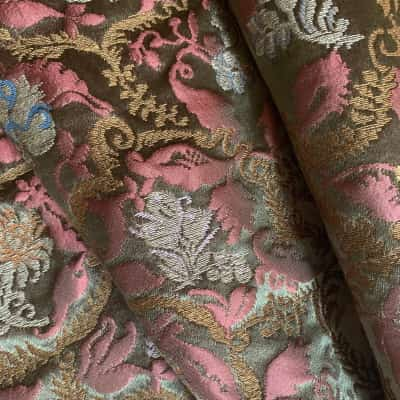 Brocatelle
Brocatelle is a fine fabric, in which elaborate designs in relief are created by the juxtaposition between rigid wefts, usually made of hemp or linen, and lighter warps made of silk. Lighter than brocade, it has been used since the 16th century in luxury furnishings and for upholstery and liturgical vestments.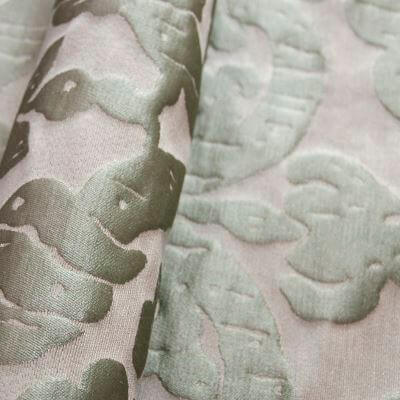 Satin
Satin is a precious silk fabric, glossy, incredibly smooth and light to the touch. What makes it so shiny is its weave, i.e. how the warp and weft intertwine with one another, also used to make woven fabrics such as damask and lampas. Satin has a dull reverse and no decorative motifs. Its ancient origins are Chinese and only began to be produced in Italy from the Middle Ages. Much appreciated by the most privileged classes for clothing and furnishings, it was also chosen by King Louis XIV for the upholstery of the Palace of Versailles.