Decorating homes with green is a trend with ancient origins: in the mid-19th century, it was one of the most popular colors, both for home interiors and for clothing. Since it immediately recalls nature, it has always been a color that evokes a feeling of peace. But its history hides details that are anything but reassuring.
The history of the color green
Green was used by the ancient Egyptians as early as 5,000 years ago. It represented the lush vegetation and the fertility of the Nile. Osiris, one of the main gods of their religion, was often depicted with green skin to symbolize rebirth and fertility. In fact, after being killed by his brother, he had risen again thanks to his wife Isis. To make the color green, pigments such as malachite, verdigris, and Egyptian green were used. Malachite was a green mineral rich in copper that was pulverized and used as a pigment for painting. Verdigris was a compound of copper acetate, obtained by corrosion of the metal, while Egyptian green was a mixture of malachite, azurite, and other minerals prepared synthetically.
The symbology of the color green related to fertility was revived in the Middle Ages. In Jan van Eyck's Portrait of Mr. and Mrs. Arnolfini (1434-1435), the woman depicted is not pregnant, as it might appear because of the shape of her dress, but was depicted in that position and with a green gown as a kind of propitiatory rite for numerous offspring. Even at that time, green was obtained mainly from mineral pigments, such as malachite or azurite.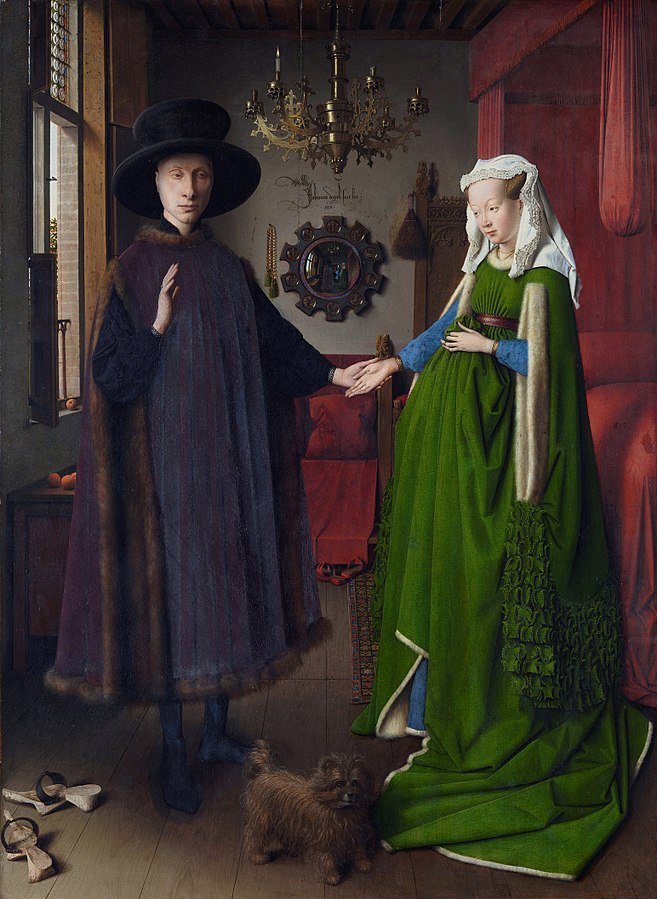 The real turning point occurred in the Victorian era, however, with the appearance of Scheele's green, developed by Swedish chemist Carl Wilhelm Scheele in 1775. The innovative dye mixture was immediately an extraordinary success because it was a very intense and lightfast color. Used in painting, fabric dyeing, wallpaper staining, and everyday objects, it had one major problem: it contained arsenic, a highly toxic substance. So, did another pigment, Paris green, with which Impressionist painters fell in love during the 19th century, but toxic because it consisted of arsenic and lead. Both were gradually discontinued, but many artists and craftsmen suffered health problems from exposure to these toxic pigments, especially before the adoption of labor and product safety laws and regulations.
Green home decor: trends through the centuries
Other than in the Victorian era, green was also a popular color for home decor during the Art Nouveau period in the late 19th century. This style was characterized by a great love of nature, from which it drew inspiration. Soft and delicate colors, particularly green in pastel green, teal, and mint green shades, were the most popular choices for illustrations, furniture – such as armchairs, sofas, and lamps – wallpapers, stained glass window decorations, and for textiles.
Green made a comeback in home decor in the 1970s, with the explosion of bright pop art colors and the creation of some iconic design objects. One above all: Gufram's Cactus coat rack in emerald green – a color no longer produced today.
More recently, increased environmental awareness has led to a rebirth of this color's popularity: thus, homes have become populated not only with plants but also with green textile elements in the most diverse shades that evoke nature, balance, serenity, and freshness. And the shades that green offers for furnishing fabrics are indeed many: here are those in our catalog.
Green furnishing fabrics: some tips for choosing the right shade
Fabrics in shades of green can be used in home decor for curtains, sofas, armchairs, chairs, and cushions. Cool shades of green, with a predominance of blue, are perfect for creating a fresh and bright ambiance, while warmer shades, with a greater presence of yellow, are suitable for a more intimate and cozier atmosphere. The wide range of green shades in our catalog offers a variety of possibilities for combination and use:
emerald green is an intense and luxurious shade of green, often associated with jewelry and precious stones, which pairs masterfully with shades such as gold or copper, creating elegant and sophisticated interiors;
jade and baltico green shades, muted and soothing, are very versatile and can be used to create calm and harmonious settings;
stronger and more vibrant are the ivy and green variants, ideal for creating a lively and joyful atmosphere that invites relaxation and recreation;
mint green is a fresh and bold shade that can add energy and vitality to the decor;
antique green has a slight shade of brown or gray that gives it an antiqued look and lends a touch of elegance and sophistication to rooms, for a classic or vintage style, but it can also be used in combination with more modern styles to create a contrasting effect;
olive green is a warm and relaxing shade that brings to mind nature and tranquility, very versatile, and which can be used to create a warm and welcoming atmosphere;
green fabrics depicting plants and animals immediately evoke nature and a feeling of peace, while animalier fabrics in green look distinctly exotic.