A style in which flowers are such a predominant element that it got labelled as "Floral Style" in Italy. At the turn of the 19th and 20th centuries, contemporary of the Belle Époque, Art Nouveau is the first attempt at creating a modern style. Even for fabrics.
What is Art Nouveau
Around 1880, various artistic and philosophical trends began developing in Europe, pushing for a new expressive language, free from the rigid schemes that had regulated both figurative and applied arts until then.
The term "Art Nouveau" was first used in those years in Belgium to describe this new movement. But it was thanks to the Universal Exhibition in Paris in 1900 that it took on a more defined identity and spread throughout Europe and overseas.
Each country had some style differences and a local name to describe the whole movement: Art Nouveau in Belgium, France and England, Jugendstil in Germany, Secessionsstil in Austria and Modernismo in Spain.
In Italy, it was called Floral Style or "Liberty Style" taking its name from Arthur Lasenby Liberty, founder of the Liberty & Co. Department Store in London, opened in 1875, which initially specialised in importing ornaments, fabric and art objects from around the world.
By 1890, Arthur Liberty began collaborating with English Art Nouveau designers who created objects, furniture and fabric designs for him. His collection effected so much social change in interior design and dress that in Italy, his name was associated with the new artistic movement.
But what are the main features of the Art Nouveau?
The characteristics of Art Nouveau
From the second half of the 19th century, the Industrial Revolution had led to high levels of standardisation with mass production, considered by many to be of low quality and dubious aesthetic value. The exponents of Art Nouveau rejected the growing mechanisation. They aimed to preserve the beauty of art and handicraft and to enhance it, drawing on the principles of the Arts and Crafts movement.
Moreover, in response to the negative consequences of industrialisation, they proposed a return to nature whose formal perfection, vital energy and dynamism they admired. References also came from Japanese Ukiyo-e prints, inspired by nature in its many expressions.
The new aesthetic taste was applied to all arts: architecture, interior design, furniture, ceramics, glass making and metalworking, as well as to the graphics of books, newspapers, posters, and the patterns of fabrics.
All of these expressions of art shared a common innovative decorative style, characterised by dynamic ornamental lines, with stylised botanical and zoomorphic motifs as protagonists: fruit, amphoras, laurel wreaths, birds, butterflies… and flowers.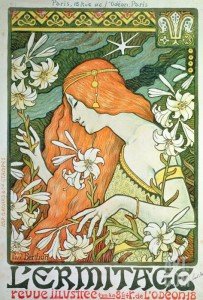 An Art-Nouveau
advertising poster
Floral forms of Art Nouveau
Flowers, like other natural forms, are represented in Art Nouveau with curving and asymmetrical shapes borrowed from nature, and straight lines ending in graceful and elegant curves (called "whiplash"). Stems, with flowing lines that intertwine harmoniously, are turned into tendrils, as, for example, in the "Liberty" velvet, a design that is part of our Historical Archive.
As for fabrics, the colours are soft, and pastel shades prevail, mainly white, peacock blue, lilac, brown, mustard, olive green and sage green.
The rendering of flowers – and the other natural elements, too – is overlarge but stylised, while maintaining a certain preciousness of the whole. This simplification is stressed by the two-dimensionality of the figures, often with little or no shadow, and marked by neat contour lines.
Among our fabrics with ornamental motifs inspired by Art Nouveau, we find, besides Fresie multi-coloured velvet (featured above):