Venice hides so many secrets that it would take your entire life to unveil them all. But we'll try to do that anyway. At the St. Regis Hotel, for example, you can find one of our Italian interior fabrics. Now, this may sound as though it's just another hotel in the city. But it isn't, because the St. Regis occupies an entire island – the San Clemente Island – and is surrounded by history.
The San Clemente Island in Venice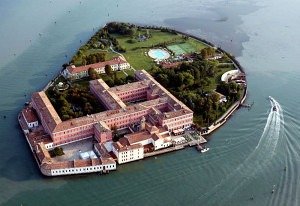 The San Clemente Island is private and not far from Saint Mark's Square, in the middle of the Venetian lagoon. It therefore has the same aim as when it was founded, in 1131: letting people's soul and spirit find some peace. The only difference? Now your soul can find some rest with all the comforts of a hotel marked as a 5 star. And the stars are pretty bright.
But the history of the San Clemente Island hasn't always been this peaceful: after hosting a hospice for pilgrims – who left from here for the Holy Land – and a monastery, its buildings turned into the Central Women's Mental Hospital of Veneto, closed only in 1992. And the period immediately after its closing down wasn't that quiet, either: the island – which was then uninhabited – was at the complete mercy of thefts and urban decay.
This state of neglect, however, didn't last long: people reported it and this led to the purchase of the island and to its restoration. And helped saving the San Clemente church, as well, dating back to the Renaissance.
Italian interior fabrics on a folding screen
Another surprise is hidden in the reception, because the folding screen separating it from the adjoining room is covered in Bevilacqua's Giardino Antico soprarizzo velvet.
A galaxy of colours – light blue, yellow, green, red, bordeaux and brown -, leaves and flowers, partly placed in a vase, partly arranged as a crown around it.
The garden motif, with multicoloured flowers, was used for the first time in Genoa between the 17th and 18th century, and it therefore perfectly suits the St. Regis Hotel's interiors. And it thus completes a style made up of antique carpets, Murano-glass chandeliers and luxury fabrics with another piece of Venetian handicraft.