From a collaboration project with the European Institute of Design a new product was born that we are happy to add to the range of furniture accessories in our catalog. Find out about its genesis and features.
The Best Design Emerged from a Workshop
Some time ago, students from the Venice IED participated in a workshop and were challenged to create a furniture object for a bookcase, to be made in collaboration with local high-end craftsmanship realities. The enthusiasm of new ideas, functionality learned in the study and the search for beauty were the creative fuel that saw designer Nicole Sbabo's project, "Simbiosi," awarded. It is a modular screen that associates metal with luxury Bevilacqua fabrics.
It was conceived as a functional element to divide a room into several areas, thus modifying the spaces, or to create a disengagement in an entrance hall, but also as a decorative element of the interior of a house, thanks to the presence of fabrics with elaborate designs and rich in color.
We presented it at the Salone del Mobile receiving enthusiastic acclaim for this object that combines the linearity of metal with the softness of velvets, an industrial design with traditional Venetian fabrics, sinuous lines and angular features, in a perfect symbiosis.
The Characteristics of the Simbiosi Screen
The Simbiosi screen has a stainless-steel frame composed of three connected and moving elements. The two side ones have a semicircle shape with different dimensions. The square support base echoes that of the central element, a rectangular metal grid that creates continuity between the surrounding space and the screen, while giving it transparency and lightness. These elements are connected by two hinges that allow you to find the desired angle and position. The maximum dimensions of the extended screen are 6.28 ft in height and 7.10 ft in width.
The decision to use stainless steel for the frame stemmed from consideration of its technological qualities that make it suitable for domestic arrangement: strength, resistance to corrosion and impact, durability, ease of maintenance, and above all, it does not rust, being stainless. Moreover, steel reaches unique peaks of refinement and aesthetic quality in furniture and design products, enhancing the most minimal and pure elegance for those who love modernity.
An elegance made even more evident by the combination with Bevilacqua fabrics. In fact, the semicircular steel frames each contain a panel covered in one of our fabrics. We have made several options to offer a glimpse of its appearance using different fabrics, from the Lune velvet in light blue and coral, to a classic Grottesche velvet in blue, to the Giardinetto lampas with its elegant antique gold pattern. These are just a few of the countless possibilities for customizing the Simbiosi screen using our fabrics of choice.
Simbiosi Room Divider – Image Gallery
One of the biggest challenges in its design was precisely balancing the static nature of a square grid inserted inside a rectangle by softening it with two semi-circles of rigid material covered, on both sides, with Bevilacqua fabrics. The search for the right proportions between the semi-circle elements, as well as between them and the central grid, also made it possible to create an object with more sinuous and harmonious lines, creating an ideal accord between the angularity and roundness of the three elements as a whole.
To request more information about the Simbiosi screen and the possibilities for customization with our luxury fabrics, contact us at bevilacqua@luigi-bevilacqua.com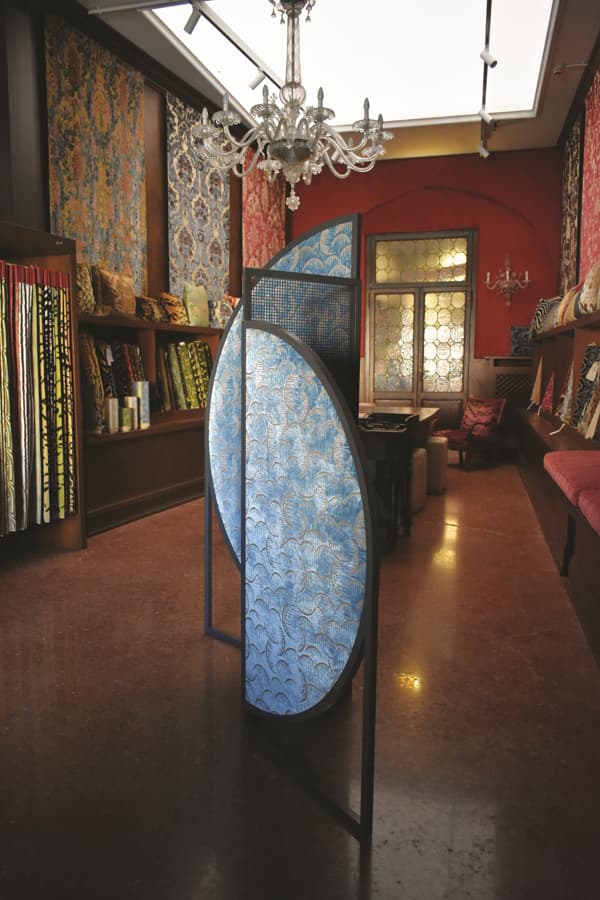 Cover Photo: Simbiosi Screen in Grottesche blue velvet