Wondering what it means to be upholstery fabric manufacturers? As easy as pie: let 2 of our weavers tell you about it, in the video made by Ampersand Video, in collaboration with Venice's Musei Civici ("city museums") and Accademia di Belle Arti ("academy of fine arts").
Bevilacqua's training of Italian upholstery fabric manufacturers
This video shows the women who make our fabrics come true: the weavers. Now there are 6 of them, using 18 looms, but in the past there were many more, as you can see in the photo below, dating back to 1923, more or less.
Their training, though, has remained the same. It's a bit more intense, because in the 19th century weavers were trained for 4 or 5 years, while now only 2. But it still focuses on 2 basic stages:
observing an experienced weaver;
perfectly understand how looms work before weaving any velvet.
And that's exactly what Silvia and Ilaria underline: they have learnt their craft gradually, as in centuries long gone. The reason? Well, there's no school in the whole world which owns 18th-century looms.
Both weavers explain that their schools only provided them with a theoretical basis, although they were weavers institutes. They learnt the practice for these looms here at Bevilacqua's. Only by observing it for years they could understand how a loom works, how the threads move through it, how to repair them when they break and which are the various knots.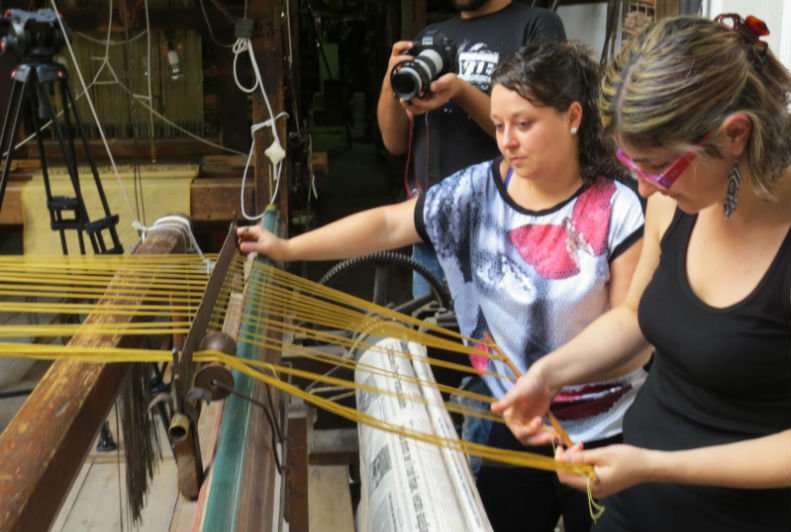 Handweaving fabrics on old looms: difficulties and value
What Ilaria and Silvia have discovered while working here, respectively for 13 and 17 years, is the meaning of manufacturing luxury unique fabrics. Indeed, behind each of them lies the hand of a human being: sometimes the hand is stronger, so it can even produce 40 cm of fabric in 8 hours; but sometimes it's weaker, so the pattern will be smaller.
And then there's the loom, which they must learn to know and listen to: working on such old machines is never an automation, because every unusual sound is like an alarm bell for a weaver. It means there's something wrong, and she must deal with it immediately, otherwise she would ruin the fabric.
Is it a difficult work? Yes, it is, but every weaver knows she creates a fabric without equal. Even if she uses a machine to pull the threads and some cards to determine the pattern, each velvet is unique, because her own hands hide behind it.
So, get ready to see Tessitura Bevilacqua with the eyes of those who make its fabrics. The video is in Italian: we've summed up what the weavers say in this article, so you can both see it and understand it.
Special thanks to those who made this video come true: