Venice's fine craftsmanship is still world-renowned and its historical workshops are magical places, where unique objects come into being. Defending and breathing new life into these traditional artisanal businesses, and this is the idea that lead to our collaboration with Orsoni. This is the last furnace using live fire in Venice to create enamels and 24k gold mosaics, and its craft has remained the same since 1888.
The damask curtains of the Fornace Orsoni
Orsoni has recently unveiled its restored furnace to the public, who have thus discovered one of the places where the ancient artistic craftsmanship of the Republic of Venice lives on. This restoration couldn't help but involve our city's and region's excellences. So we've joined this work, too, by providing the silk damask for curtains of its majestic bathroom. Thanks to its lightness, it lets the brightness of the 24k gold mosaic behind it shine through, and its elegant pattern, full of flowers and garlands, mirrors the mosaic's elegance.
Gold isn't the only colour the company uses in its products, though. The "Library of colour" contains more than 3.500 different hues and shades of glass enamels and it was the basis for the famous panel created by the company's founder, Angelo Orsoni. This work was exhibited for the first time at the Exposition Universelle in Paris in 1889.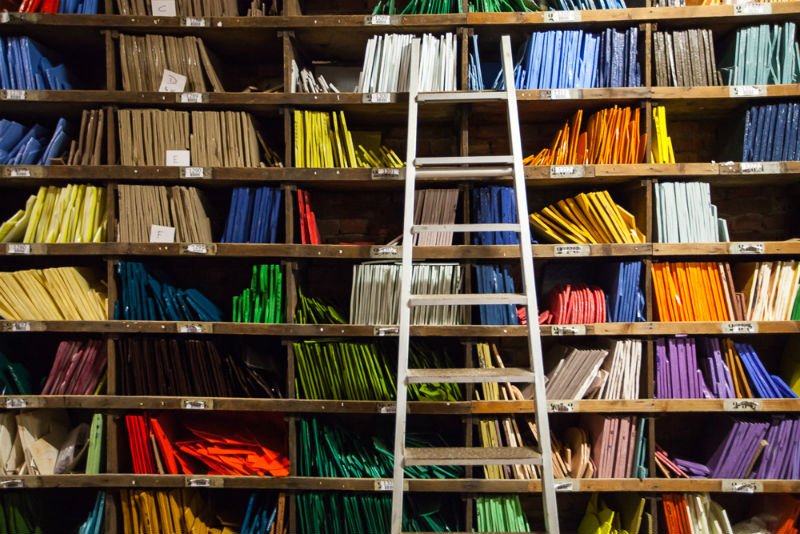 Some years later, Antoni Gaudí found inspiration in this panel and decided to use the glass enamels by Orsoni to decorate the Sagrada Familia.
But the company's involved in the decoration of another Christian monument: from its very beginning, it has been making the mosaics employed to restore St. Mark's Basilica, and is now the only company allowed to produce "St. Mark's Gold".
Orsoni's name is connected to the making of other important works, as well, such as the Trocadero and the Basilica of the Sacred Heart of Paris, St. Paul's cathedral in London, Rudolf Nureyev's grave and many mosaic masterpieces of the Eastern and Arab architectures.
These are just a few of their works, but they prove nevertheless that the tradition Angelo Orsoni decided to bring back to life in 1888 can live on even in the 21st century. And that's exactly what the Venezia Pavilion at this year's Venice Biennale shows, where both our Tessitura and Orsoni have their installations: Venice is a city full of craftspeople who preserve ancient knowledge and crafts, thus letting the whole world know about them.
As Orsoni's President,Riccardo Bisazza, says: "Our aim is to convey emotions through a unique object, whose details we've carefully studied, because we're as fond of excellence as Bevilacqua is".