There's another ancient tradition, related to weaving, which we'd like to keep nurturing: that of cloth of gold. We'll tell you where it comes from and why this branch of Italian fabric manufacturing still bears fruit nowadays.
What's the cloth of gold
The gold cloth is a luxury fabric for furnishing and clothing, made by interlacing silk and golden or silver threads. The production stages are the following:
the

merchant

bought silk and gold bars and gave them to the craftspeople working for him;

the

goldbeaters

hammered gold until they got extremely thin sheets, which were then cut into threads;

the

weavers

then started working, following a manual procedure. The different types of fabrics they could produce were brocades, damasks and velvets.
But where does the gold cloth industry come from, and how did it get to Venice?
A short story of the gold cloth industry
The production of cloth of gold:
was born in

Greece

in the 11th century;

came to

Venice

during the 14th century, thanks to its Eastern trades, and reached its top level in the 17th century: the merchants of the Venetian Republic bet on Germany and the East, whose demand for rich fabrics was high;

other

Italian States

which produced these types of luxury fabrics were the Duchy of Milan and the Republics of Genoa, Florence and Lucca.
These fabrics, though, are produced even today.
Tessitura Bevilacqua and the fabrics with golden threads
Indeed, sometimes we do receive an order for fabrics containing real golden threads.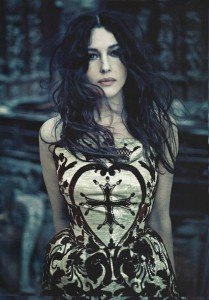 That's what happened in 2012, when we made the dress you see in the pictures for Dolce & Gabbana. We've been collaborating with these stylists since 2000, and on this occasion they had chosen one of the patterns of our archive.
Dolce & Gabbana's dress with Bevilacqua's Italian velvet
The motif you see on the dress worn by Monica Bellucci reveals where this brocaded velvet was originally used: for a church's upholstery. The two Italian stylists chose it for a photo session – published on Vogue's September 2012 release – dedicated to Italian haute couture, and to its relationship with the feature.
It's definitely not a pret-a-porter clothing item – golden threads are quite heavy -, but it demonstrates that even Venice's most ancient traditions can prove to be vital today, too.
And we're going to keep them like that.
Header image © Dolce&Gabbana