Walk through the door of the theatre in Campo San Fantin and step into another time. As you climb the grand staircase, you are surrounded by an 18th-century atmosphere: now stop and stare at the wonder of the risen Phoenix, and then enter the Sale Apollinee.
Luxury interior fabrics: neoclassicism in 1937
The style of the Grand Theatre La Fenice, built in 1792, is neoclassical: Giambattista Meduna, too, based his restoration works in 1854 on this revival of classic architecture. Though the neoclassical style may look quite old-fashioned in the middle of the 19th century, Meduna was well aware of his choice: by bringing the art of the end of the 18th century up again, he hoped that this theatre could preserve the memory of a time when Venice was still a great city. In this way he was trying to drive out the spectre of the crysis the city stuck in, even if just for the time of a show.
The same choice was made in 1937, when the Municipality of Venice, the new owner of the theatre, charged Eugenio Miozzi and Nino Barbantini with a new restoration, aimed at adapting the building to the new stage requirements. That's how Bevilacqua's weaving mill was asked to supply the five Sale Apollinee with luxury interior fabrics.
How is a neoclassical upholstery fabric woven in the 20th century? You just need to take a look at the heading image: the fabric is called Damasco Fenice, a sample of which is kept in Bevilacqua's Historical Archive. The damask is neoclassical because of the vegetal pattern, of the pillar base it supports and of the two sitting griffins that flank it. The motif therefore brims with classical and mythical elements, which mirror the elegant decorations of the Sale Apollinee and draw their inspiration from them.
Where it was and how it was: what happened after the fire
The history of La Fenice is an incredible one: as the phoenix, the mythical bird it is named after, it has risen from its ashes. A fire has burnt it down twice, in 1836 and 1996. The last fire destroyed it almost completely, and the Sale Apollinee suffered grievous damages.
Some 30 years before the fire, in 1902, Saint Mark's bell tower had collapsed and been rebuilt under the motto "where it was and how it was". The memory of the other ruin of a city monument was still too fresh, so the same motto became the banner of the reconstruction of La Fenice.
In some of the rooms of the theatre, though, reconstruction did not literally stick to this ideal: this is why the Fenice damask and the lampasses by Bevilacqua were not recovered, despite their samples in the weaving mill's Historical Archive. But a phoenix rising from its ashes is not necessarily the same bird as it once was.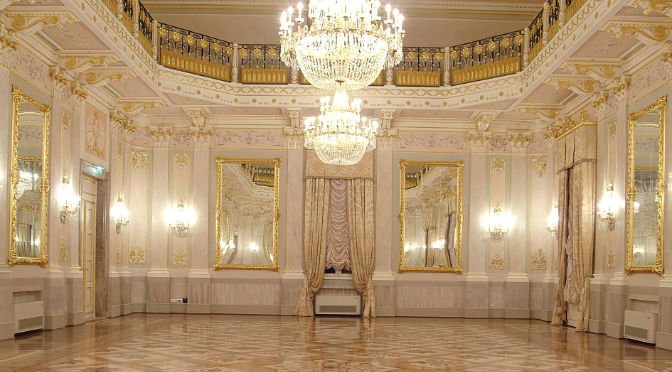 La Fenice Theatre, Sale Apollinee: the Sala Grande today. Photo: © Michele Crosera