One of Leonardo Da Vinci's countless creations is a drawing often recurring in his paintings, as well as for frescoes, embroidery, fabrics, leather, weapons and jewels. It was such a popular motif that an out-and-out fashion sprang from it at the end of the 15th century, at the Court of Milan. And the vinci inspired one of Bevilacqua's Venetian velvets.
The Da Vinci's knots
The vinci, i.e. the knots invented by Leonardo Da Vinci, are named after the purple willows typical of this artist's city. Maybe the knots – which later became the symbol of the Da Vinci Academia, too – had their origin in the costume of weaving baskets out of the pliable twigs of these trees, or in their use for binding vines.
They consist in a continuous line forming a circular drawing made up of various plaits, whose base could be the Saint Andrew's cross – who, by the way, is Vinci's patron saint -, joined to the infinity symbol. It can be spotted on the hem of the dress of the Lady with an Ermine, dating back to the years between 1488 and 1490, but most clearly in the fresco covering the vault of the Sala delle Asse in the Sforza's Castle in Milan, painted in 1498. Here Leonardo created a sham bower with the entwined branches of sixteen blossoming trees, in the shape of the vinci.
Besides, as many portraits of nobles belonging to the Court of Milan, at the end of the 15th century these knots were one of the most beloved patterns for luxury velvets. But, since they were mostly used on women's dresses – even Mona Lisa's -, they are usually interpreted as a hint at the bond between lovers, or at the idea of "winning" (since Vinci, in Italian, has the same spelling as "you win").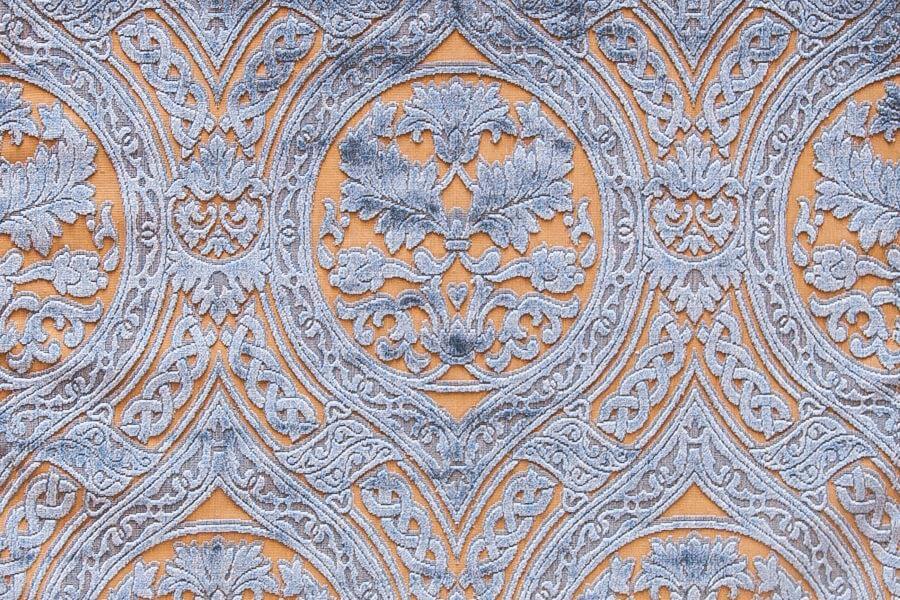 The Da Vinci's knots as patterns for luxury velvets
The knot drawn by Leonardo Da Vinci is featured on one of Bevilacqua's velvets, too, reproducing a Venetian velvet from the late 15th or the early 16th century: it therefore dates back to the same period in which Da Vinci's knots came into being.
The Da Vinci Velvet 39243, though, has another 15th-century feature:the allucciolature. The allucciolato is a technique by which loops of silver or gold are woven in the velvet or satin warp. When the fabric moves, they seem to turn on and off, like the lights of the fireflies (lucciole, in Italian) they owe their name to.