Upholstery has a centuries-long history, as does the use of velvet upholstery fabrics. The charm and luxury this fabric inspires are unparalleled, but it hasn't always been used to cover sofas and chairs in the same way as today.
The origins of upholstery
Ancient Egyptians already used fabrics for upholstery, as well as Greeks and Romans and, in the Middle Ages, they appeared in churches, too – the rich began to use it in their own homes only after the Crusades. But all these furnishing fabrics were employed on curtains and carpets only, and this usage survived for a long time, until the 16th century. As we explained in the post on velvet sofas, before that, houses were too cold and damp to think you could have any upholstered piece of furniture, let alone covered with any fabric.
Velvet upholstery fabric: a timeless luxury
Since the dawn of its production in Europe in the 12th century, velvet has been the symbol of wealth and prestige for its owners. And therefore people wanted to show it as much as possible in houses and palaces, not only on clothing.
The first designs of velvets used to cover furniture were therefore Renaissance motifs, but in the following centuries they followed the trends dictated first by Italy and then, from the 18th century, by France, whose velvets gradually took the place of the Italian ones.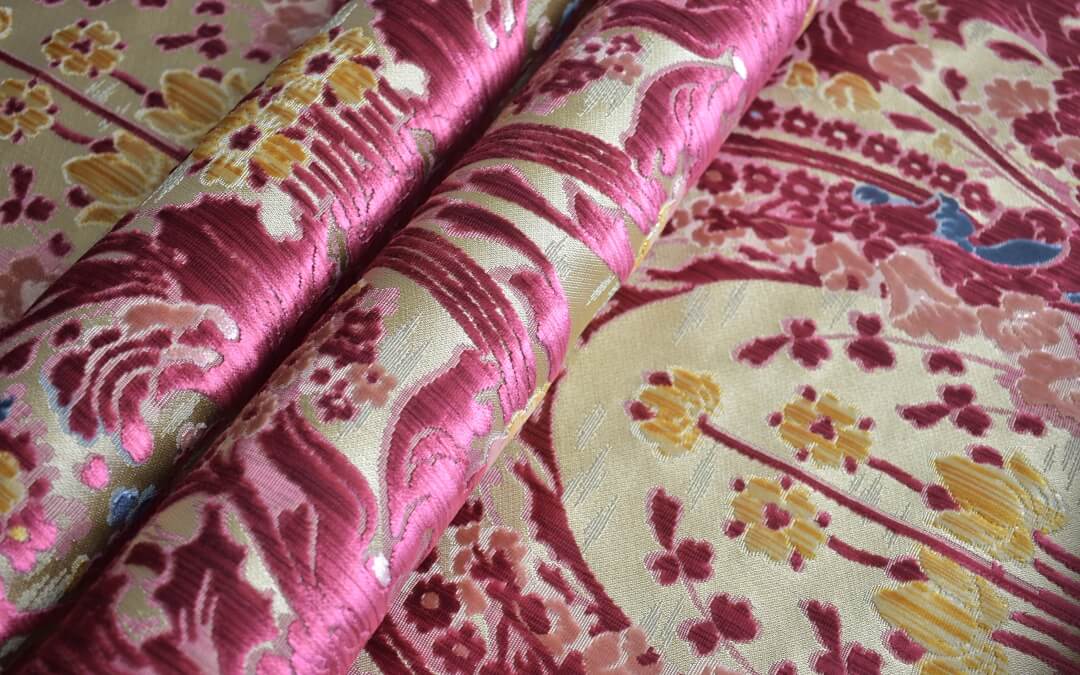 Its aura of luxury still remains today, although there is another feature that has allowed it to return to the forefront in recent years: the comfort and sense of warmth and hospitality it inspires. Indeed, our velvets have been used in interior projects of all kinds.
Velvet upholstery by Bevilacqua: many different projects and styles
As many of the projects we have talked about prove, our velvets are mainly used to cover furnishing items and architectural elements: throne, canopy, walls and curtains of the Residential Palace in Dresden; the columns of the Basilica of the Madonna della Salute; the chairs of the Kremlin, the production of whose velvet was incredibly complicated; chairs and sofa of the Yellow Oval Room of the White House, which you can see in the header image.
This list therefore includes many restorations and furnishing items located inside historical buildings, but not only, because even modern rooms can enjoy velvet upholstery: just think of the sofas covered with animal skin velvets, with contemporary or Deco designs.
Header picture: Yellow Oval Room, White House @Architectural Digest