This bag, one of our novelties, certainly doesn't go unnoticed. It may be for the beautiful velvets that cover it, for the wide shapes or for the golden metal details. In any case, it's an exclusive accessory that, in the envelope version, is designed also for the man who wants to stand out with style.
The Tote Bag for Informal Occasions and Work
Maddalena is the ideal complement for daywear because it is spacious and practical, but above all it's a unique accessory, covered with beautiful velvets and created by skilled Venetian craftsmen.
The finishes are made with soft Italian leathers, as well as the inner lining, the pretty webbing that embellishes the chain handles and the shoulder straps that make them more functional and comfortable.
The velvet chosen to cover it is the Coccodrillo velvet, whose shiny animalier pattern matches beautifully with the golden metal details and gives character to the bag and its design, elegant but not demanding, compliments any outfit.
The Maddalena project is versatile, in fact we offer it also in a version without handles and slightly smaller, with a clean shape suitable also for the male clientele. The linear design enhances the velvet that covers it and makes it perfect for work also, as a document and laptop case.
For it, we thought of the Da Vinci velvet which stands out in all its beauty with its magnificent designs of Leonardo's knots. An exclusive accessory to distinguish themselves and face even the most demanding job opportunities with determination.
The Peculiarities of the Velvets Chosen for the Maddalena Bag
The Da Vinci velvet takes up the motif of Leonardo's knots that the artist created starting from a continuous line and developing the design in multiple plaits of extraordinary elegance and refinement. They were his trademark as he represented them in many of his works. They were so successful in the Renaissance that they became one of the most fashionable motifs for precious fabrics at the end of the 15th century and inspired one of our most beautiful velvets.
The Coccodrillo velvet, one of our animal velvets, embodies all the elegance of velvet and the exotic character of animalier patterns, a timeless classic much loved both for clothing and accessories.
The Bag Inspired by Maddalena Corvina
This bag is dedicated to a strong woman with a great passion for art, to which she devoted her life.
Maddalena Corvina was born in Rome in 1593, from a family of artists of Flemish origin: her maternal grandfather was a painter and her father a miniaturist and naturalist. Her exposure to art since an early age, combined with her sensitivity and talent, nurtured her passion.
Like her father, she preferred a particular form of painting, that of miniatures, and dedicated her whole life to it. Maddalena, in fact, remained unmarried and quickly became famous, receiving many awards for her work.
Unfortunately, the grace and elegance of her works, both portraits and still lifes, can be admired today only in very few examples that have survived to this day.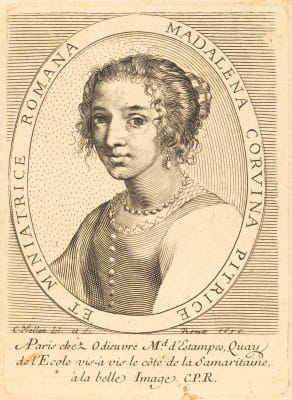 Maddalena Corvina – Portrait by Claude Mellan – National Gallery of Art, Washington, D. C.
Cover photo credit: Marta Formentello for Venezia da Vivere