2019 marks the 500th anniversary of Leonardo Da Vinci's death, the amazing Renaissance artist and inventor. We're all familiar with the intensity in the eyes of his paintings, the atmosphere blurring landscapes in the distance, Mona Lisa's mysterious smile, his brilliant inventions… But maybe we're not equally well informed about his game-changing role in the textile industry.
And we intend to celebrate him by talking about this role.
Leonardo and the textile world
Some time ago we told you about one of our velvets, named after the artist himself: the Da Vinci Velvet. Another fabric from our connection is connected to it, the Sforza Brocatelle, owing its name to an aristocratic family Leonardo had a lot to do with. Indeed, he lived in Milan – the city ruled by the Sforzas – from 1482 to 1500 and here he created some of his masterpieces, such as The Last Supper and the Lady with an Ermine.
AT the court of the Sforzas, the artist and inventor brought some important improvements to the mechanical loom, creating perfectly functioning machines. Both to improve these machines and to paint dresses Leonardo carefully studied each detail of fabrics: their drapery, how they reflect light… and their patterns.
A model of mechanical loom built by the National Science and Technology Museum "Leonardo da Vinci" in Milan, based on Leonardo's drawings contained in the Codex Atlanticus.
Leonardo Da Vinci's fabric patterns
Between December 2015 and January 2016, the Metropolitan Museum of Art in New York hosted a very interesting exhibition called " Fashion and Virtue: Textile Patterns and the Print Revolution, 1520-1620".
At the core of the exhibition are the first printed textile patterns and how they spread all over Europe: the origins of these texts dates back to the Renaissance. And this increasingly popular trend seems to be rooted in some of Leonardo's drawings, later copied by Albrecht Dürer.
Interlaced roundel with seven six-pointed stars, Leonardo Da Vinci.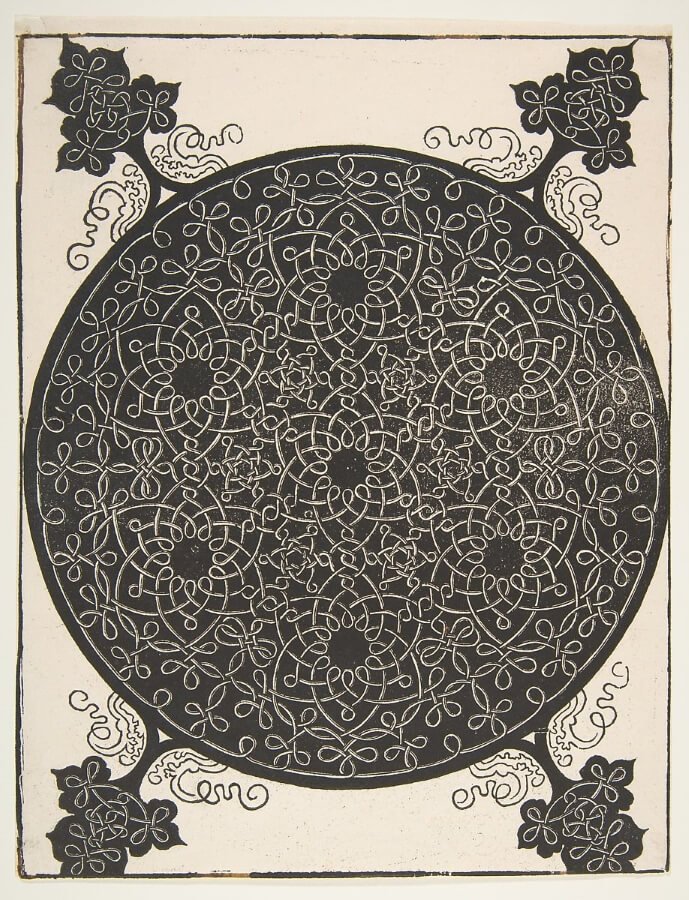 Interlaced roundel with seven six-pointed stars, Albrecht Dürer.
These booklets first appeared during the 1520s, but Leonardo drew his sketches when he was in Milan. Indeed, the Codex Atlanticus, a manuscript dating back to the years 1478-1518, contains six different interlaced designs, among the most popular patterns at the end of the 15th century in Milan – and it wasn't used exclusively on clothes. Such patterns decorated belts, sword hilts, book covers and much more.
Codex Atlanticus, folio 495r.
You can see two of Leonardo's patterns on the Da Vinci Velvet and Sforza Brocatelle, and we owe their preservation to one of Leonardo's pupils – who turned them into engravings – and Dürer – who created woodcuts based on them. The latter's work let Leonardo's roundels spread throughout Europe and, through print, originate the first fashion publications.