We present all the novelties of our bags collection. New fabrics and new models, but with a leitmotif: the charm of deep shades of color that are perfect for the Fall/Winter season.
The New Elena Mini Bag
The Elena bag now has a mini version. A small frame bag, beautifully feminine, declined in four new fabric variants, all very different, for diverse personalities who want to be noticed.
The dimensions of this bag are small (23.5cm base, 17.5cm height and 11.5cm depth), the opening is framed by two zippers, handles are rigid, finishing are in soft leather, and it has golden metal details.
All these characteristics make Mini Elena a perfect daytime handbag, but what really makes it unique are the fabrics we have chosen for this season: Rinascimento velvet and Lancé velvet in exclusive black tones with a neutral background, and Uccelli lampas, with magnificent touches of color on a luminous black background.
But not only black. For the Mini Elena frame velvet handbag we also opted for a fabric with a contemporary design, extremely up-to-date: Bolle velvet in red, which will make this velvet modern bag and its wearer, the absolute stars.
The New Versions of the Bevilacqua Velvet Tote Bag
The Bevilacqua tote bag is a capacious and dynamic shopper to carry more than the bare essentials, but always in great style. We gave it our name because the beautiful fabric that covers it, the Leoni Bizantini velvet, recalls the logo of our Tessitura. It is now available in a splendid black version too. The fierceness of this timeless symbol, which arrived in Venice from ancient Persia together with silk, represents two lions defending the tree of life, a symbol that comes from afar, embracing different cultures and wide temporal spaces, encompassing strength, energy and positivity.
This beautiful velvet tote bag is perfect for every day: it is wide and roomy (base 33cm, height 38cm, depth 13cm), with a squared line and rigid leather handles, for a casual but refined style. From this season, it is also embellished with Rinascimento velvet in black color on a neutral background with golden reflections. This velvet reflects the opulence of 16th-century fabric motifs, whose protagonists are mainly natural elements: thin stems and stylized lotus and thistle flowers in a grid-like structure.
Anna Baguette Bag in Black Velvet
The elegant Anna baguette bag is presented in new refined velvets for the season: Rinascimento velvet and Lancé velvet in black. The design of the latter dates back to the 1600s but is extremely contemporary and, with its neutral background, can be easily matched with outfits in light or dark tones. So, the Anna baguette, with its clean and classic rectangular shape, available in two sizes (32cm long and 15cm high and Mini 21cm long and 14cm high), and equipped with a leather handle and shoulder strap, can become the companion of days of refinement and elegance.
The Caterina Bowler Bag
The sophisticated Caterina bowler bag masterfully combines the practicality of a large bag with the beauty of an exclusive fabric that enhances the classic and linear silhouette: the beautiful Bolle velvet in black with gray gradations. A soft shape and a fabric with a geometric design and unique silkiness and shine to enhance any daytime outfit, from the most casual with jeans to the most refined.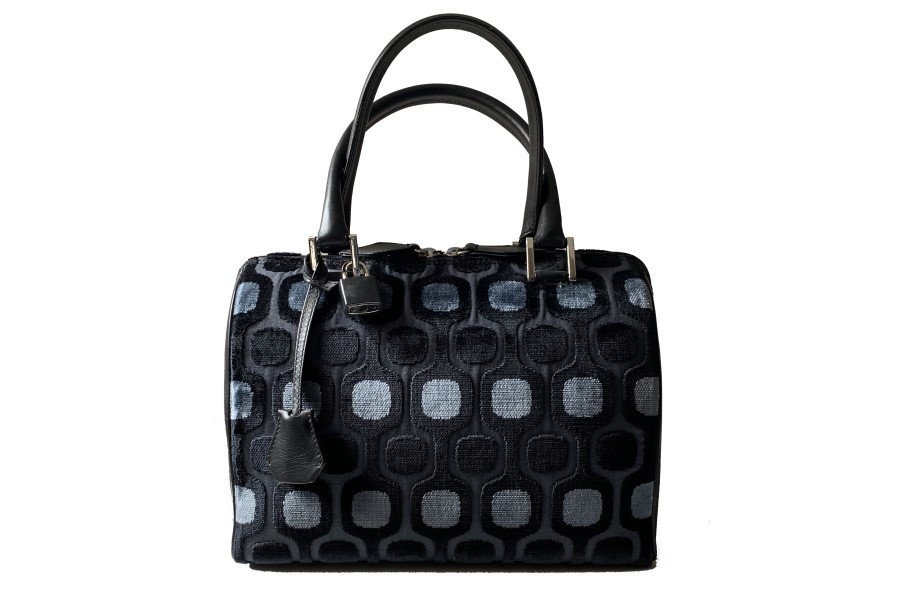 Caterina bowler bag in black Bolle velvet
Bianca Velvet Clutch Bag
The Bianca clutch, although small in size, is full of personality and elegance, especially in the new fabric: the Uccelli lampas in black. Silk fabric that had its heyday in the 18th century, loved by European nobles for its luster and richness in designs. The Uccelli lampas naturalistic motif is richly detailed too and features vibrant colors.
Complemented by a pretty chain to be worn on the wrist or the long strap to be worn on the shoulder, this velvet clutch bag goes with any look, whether casual or elegant, a little gem that is loved for its beauty.
Bianca clutch in black Uccelli lampas
Our collection of velvet handbags is now extended with these new models and new precious fabrics of the Venetian tradition that make these accessories not just objects, but unique and exclusive creations. A combination of Italian craftsmanship and refined luxury.
Photos credit: Marta Formentello for Venezia da Vivere